Grace Francis
E-mail:
Phone: +44(0)7917 447 751
My name's Grace Francis and I'm a self taught artist who draws for the love of it. I've been doodling ever since I can remember and am happy that I can offer the use of my skills to other people who are in need of a cartoon, a portrait, or a logo. I am happy to consider any artistic challenge so please have a browse through my portfolio and get in touch with me if you feel I might be able to assist you. :0)
Pencil Portraits

Ink Sketches

Cartoons

Logos

Basic Digital Colouring
Pet Portraits
My most regular request is to draw pet portraits for people of their beloved animals. Since I work with dogs, and know a lot of doggy people through agility and showing, I have been fortunate to be asked to draw quite a few portraits over the past few years. I am happy to consider drawing any animal, however!
I only draw in pencil and can offer portraits in either A4 or A3 sizes, with as many subjects as you please. I need good photographs to work from, sent to me by email or post, and I try my best to complete sketches in 2-6 weeks.
Please contact me for more information or to place a commission.
Illustrations
I have been very privileged to have received requests to draw illustrations for various people and organisations, including the Pyrattica stamp series, which a friend of mine produces, and cartoons to grace the newsletters and programme items of the International Discworld Conventions in 2012, 2014 and 2016. I have also drawn some beer labels for the 2013 Irish Discworld Convention and am in the process of collaborating on art projects for the 2017 Australian Discworld Convention!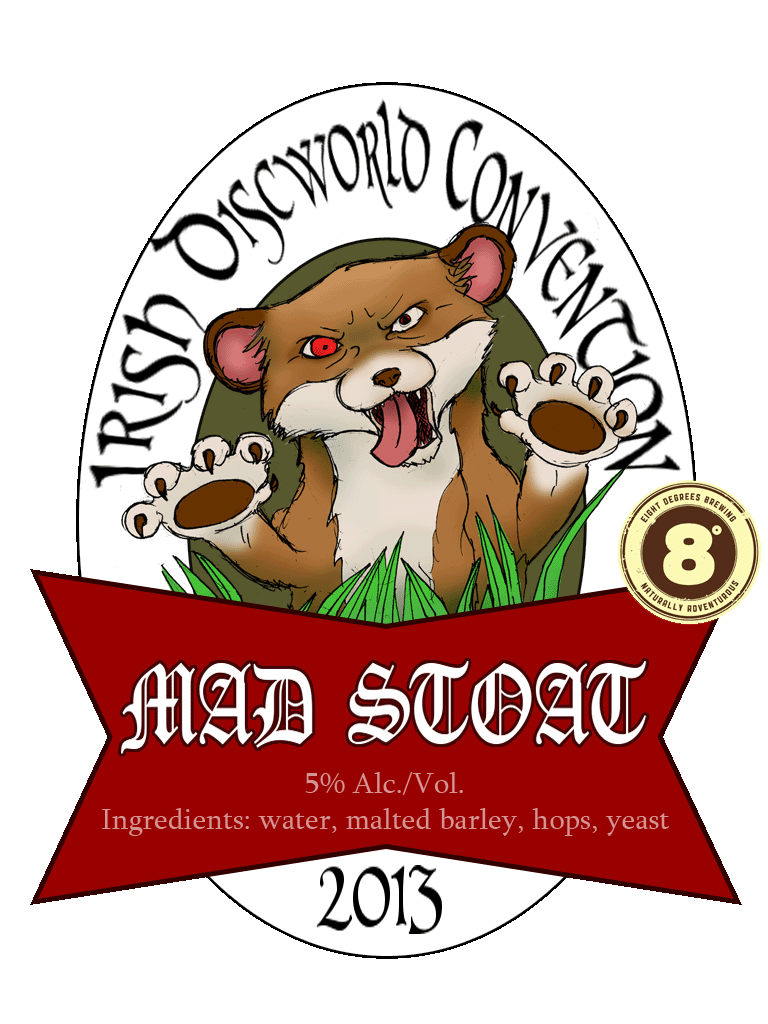 Logos
If you find yourself in need of a logo, particularly one which comprises of an animal illustration, feel free to get in touch with me and I'll see if I might be able to help. I have drawn the logo for the International Discworld Convention 2014, featuring the Ankh-Morpork hippos framing the river Ankh, as well as for the 2016 Discworld Convention, and have also designed a logo for the heelwork-to-music "doggy dancing" club, "Strictly Canine", featuring a dog silhouette over a keyboard.
Artistic profile aside, I work as a full time canine carer/rehomer for Dogs Trust. I own a Belgian Shepherd called Phoenix and am a keen learner-horse-rider. I also enjoy reading, history, old movies and going to the theatre (when money allows). I've recently embarked on my journey into the Furry fandom and hope to attend conventions in future as my fox fursona, Jurious.